Is your landscape ready for a hurricane?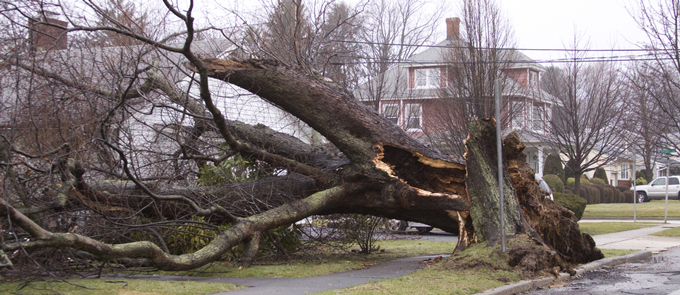 Hurricane preparedness is by far the most important part of personal safety during the hurricane season, but as a land care professional my thoughts always return to the landscape. I don't know of any official statistics concerning costs associated with landscape damages, but based on my experience with response to natural disasters, I can assure you damages can be extensive and costly.
Here are some tips I hope you will find helpful not only for the hurricane season, but in general. Please share and discuss these tips with family, friends and/or neighbors to better prepare for, and prevent property damage.
Before the storm
Anchor newly planted trees (within the last year) with appropriate tree support systems
Preventatively pruning dead wood and weak crotches from existing trees minimizes risk of property damage
Harvest fruits and vegetables before a storm and keep in containers to prevent contamination from floodwaters
Secure/Store all outdoor garden fixtures and lawn or garden equipment as you would for winter
Clear gutters, downspouts, drainage pipes and basins of debris to allow for excess water flow from the heavy rain
Shut down irrigation systems and turn off the water supply to prevent possible added flooding due to broken heads and lines
Prune trees with dense canopies to prevent a "sail effect" and possible uprooting
Contact your land care professional for assistance in preparing your landscape for hurricane season and/or pending storm-events
Contact your insurance agent before the storm to determine what damage is, and is not, covered by your policy
Have large trees that are financially difficult to replace appraised and insured
Take pictures of your landscape before and after storm-events to help expedite claims
Keep accurate records of landscape appraisals and losses for insurance, legal, and income tax purposes.
During the storm
DO NOT park vehicles beneath trees
DO NOT go outside unless directed by officials.
After the storm
Be aware of coastal and hillside erosion
Be aware of downed power lines and foreign material in the yard
Leave partially downed trees and hanging limbs for trained professionals to manage
DO NOT use fresh or garden food that has come across floodwaters
Use agriculture grade gypsum to help counteract the effects of salt spray on lawns and gardens
Have well water re-tested for potability and usage on lawns and gardens.
Insurance coverage for downed trees can vary depending on the insurance company. A basic home policy generally provides limited tree removal coverage up to $500 if trees fall on covered property. Some insurance companies provide slightly higher amounts and may cover tree removal when a covered building is not involved when you purchase a special endorsement to your policy. Tree removal coverage is subject to your policy deductible.