Dante's Organic Garden
Spring has arrived early this year in New England. Last week's snow throwers have been traded in for larger than a smart-fortwo lawnmowers—sure they cost the same, but the mowers have cup-holders. For those that are unaware, much of the region has been coping with floods. To say soils are saturated is an understatement.  Nonetheless, landscapers and gardeners have been out in full force since the day after the storm subsided. It got me thinking: there should be a top ten list of things not to do in the landscape; better yet, the Seven Gardening Sins. Then, it dawned on me. One of the world's literary masters had already composed such a work: La Divina Commedia.
The Nine Circles of Hell—from Dante's Inferno (as visualized by an organic zealot)
First Circle (Limbo) – The prudent non-believers in organic
Second Circle – The carnal  malefactors who plant without sense of place
Third Circle – The gluttonous who over-water to the point of waste
Fourth Circle – The greedy who fertilize without first testing the soil
Fifth Circle – The wrathful who dispose all things not sheared and uniform
Sixth Circle – The heretics who throw away their yard waste
Seventh Circle – The violent who misuse pesticides
Eighth Circle – The flatterers, hypocrites, thieves, fraudulent advisors, and counterfeiters known as "greenwashers"
Ninth Circle – The treacherous who pervert the meaning of organic, and abuse its name.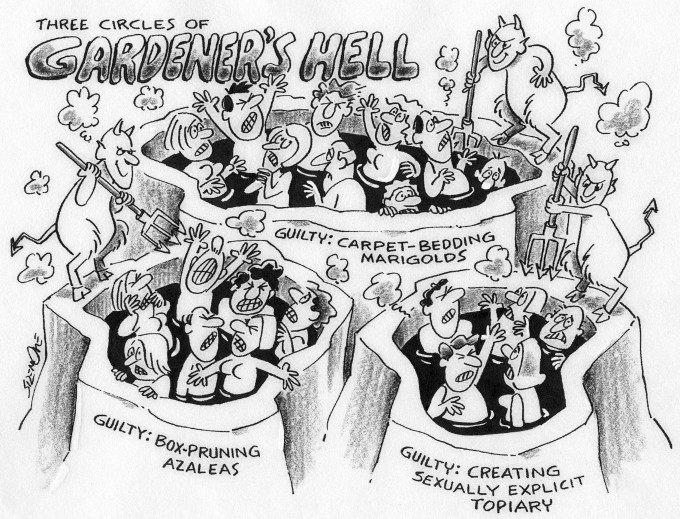 Lasciate ogne speranza, voi ch'intrate